Hyundai Ioniq: Steering Wheel / Electric Power Steering (EPS)
The system assists you with steering the vehicle. If the vehicle is turned off or if the power steering system becomes inoperative, you may still steer the vehicle, but it will require increased steering effort.
Should you notice any change in the effort required to steer during normal vehicle operation, have the system checked by an authorized HYUNDAI dealer.
CAUTION
If the Electric Power Steering System does not operate normally, the warning light (

) will illuminate on the instrument cluster. You may steer the vehicle, but it will require increased steering efforts. Take your vehicle to an authorized HYUNDAI dealer and have the system checked as soon as possible.
Information
The following symptoms may occur during normal vehicle operation:
The steering effort may be high immediately after placing the Engine Start/Stop button in the ON position. This happens as the system performs the EPS system diagnostics. When the diagnostics are completed, the steering wheel will return to its normal condition.
A click noise may be heard from the EPS relay after the Engine Start/Stop button is in the ON or OFF position.
Motor noise may be heard when the vehicle is at a stop or at a low driving speed.
When you operate the steering wheel in low temperature, abnormal noise may occur. If temperature rises, the noise will disappear. This is a normal condition.
When an error is detected from the EPS, the steering effort assist function will not be activated in order to prevent fatal accidents. Instrument cluster warning lights may be on or the steering effort may be high. When the following symptoms occur, immediately drive the vehicle to a safe area and check it.
Adjust the steering wheel so it points toward your chest, not toward your face. Make sure you can see the instrument cluster warning lights and gauges...
Other information:
Low Washer Fluid (if equipped) This message is displayed if the washer fluid level in the reservoir is nearly empty. Have the washer fluid reservoir refilled. Low Fuel This message is displayed if the fuel tank is almost out of fuel. When this message is displayed, the low fuel level warning light in the cluster will come on...
Components1. Camshaft bearing cap2. Front camshaft bearing cap3. Exhaust camshaft4. Intake camshaft5. Exhaust CVVT assembly6. Intake CVVT assembly7. Cylinder head assembly8. Cylinder head gasket9. Retainer lock10. Retainer11. Valve spring12. Valve stem seal13...
Categories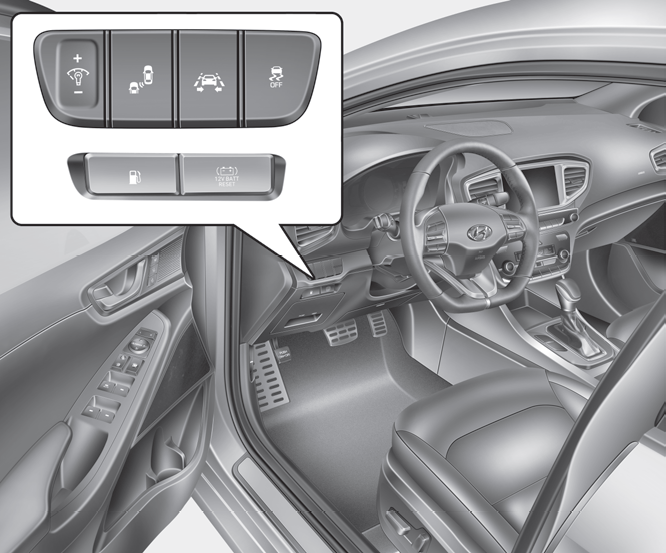 1. Door lock/unlock button
2. Driver position memory system
3. Side view mirror control switch
4. Central door lock switch