Hyundai Ioniq: Gauges and Meters / Speedometer, Tachometer
Speedometer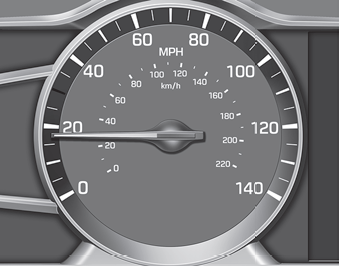 ■ Type A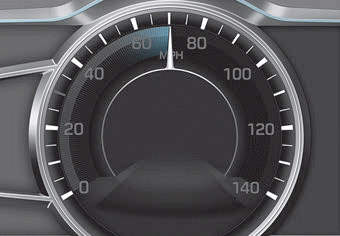 ■ Type B • ECO mode selected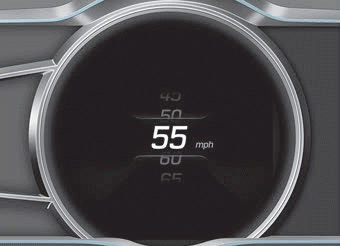 ■ Type B • SPORT mode selected
The speedometer indicates the speed of the vehicle and is calibrated in miles per hour (MPH) and/or kilometers per hour (km/h).
The speedometer for cluster type B is displayed differently according to the mode selected, ECO or SPORT. If the shift lever is in S (Sport), SPORT mode is selected and if the shift lever is in D (Drive), ECO mode is selected.
Tachometer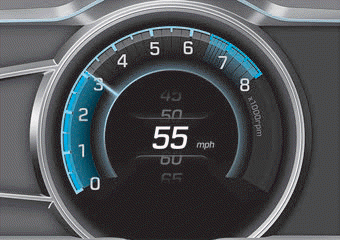 Type B • SPORT mode selected
The tachometer indicates the approximate number of engine revolutions per minute (rpm).
Use the tachometer to select the correct shift points and to prevent lugging and/or over-revving the engine.
NOTICE
Do not operate the engine within the tachometer's RED ZONE. This may cause severe engine damage.
Power gauge The power gauge indicates whether the current driving condition is fuel efficient or not. • CHARGE : Shows that the energy made by the vehicle is being converted to electrical energy...
Other information:
Smart Key Your HYUNDAI uses a Smart Key, which you can use to lock or unlock a door (and liftgate) and even start the vehicle. 1. Door Lock 2. Door Unlock 3. Liftgate Unlock 4. Panic Locking To lock : 1. Close all doors, hood and liftgate. 2. Either press the door handle button or press the Door Lock button (1) on the smart key...
This information identifies and describes the fundamental characteristics of the tire and also provides the tire identification number (TIN) for safety standard certification. The TIN can be used to identify the tire in case of a recall. 1. Manufacturer or brand name Manufacturer or brand name is shown...
Categories
Adjust the steering wheel so it points toward your chest, not toward your face. Make sure you can see the instrument cluster warning lights and gauges. After adjusting, push the steering wheel both up and down to be certain it is locked in position. Always adjust the position of the steering wheel before driving.
WARNING
NEVER adjust the steering wheel while driving. This may cause loss of vehicle control resulting in an accident.