Hyundai Ioniq: Gauges and Meters / Speedometer, Tachometer
Speedometer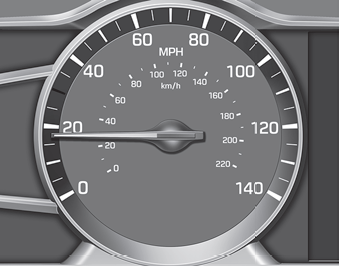 ■ Type A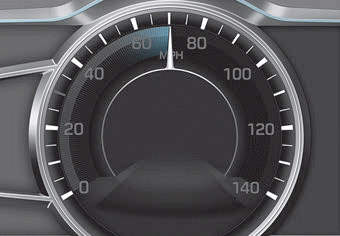 ■ Type B • ECO mode selected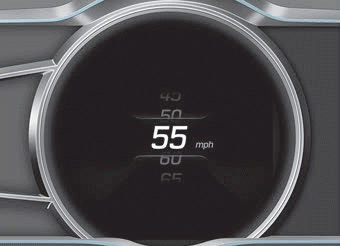 ■ Type B • SPORT mode selected
The speedometer indicates the speed of the vehicle and is calibrated in miles per hour (MPH) and/or kilometers per hour (km/h).
The speedometer for cluster type B is displayed differently according to the mode selected, ECO or SPORT. If the shift lever is in S (Sport), SPORT mode is selected and if the shift lever is in D (Drive), ECO mode is selected.
Tachometer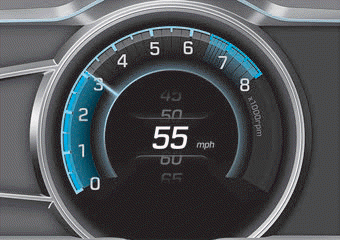 Type B • SPORT mode selected
The tachometer indicates the approximate number of engine revolutions per minute (rpm).
Use the tachometer to select the correct shift points and to prevent lugging and/or over-revving the engine.
NOTICE
Do not operate the engine within the tachometer's RED ZONE. This may cause severe engine damage.
Power gauge The power gauge indicates whether the current driving condition is fuel efficient or not. • CHARGE : Shows that the energy made by the vehicle is being converted to electrical energy...
Other information:
To equalize tread wear, HYUNDAI recommends that the tires be rotated every 7,500 miles (12,000 km) or sooner if irregular wear develops. During rotation, check the tires for correct balance. When rotating tires, check for uneven wear and damage. Abnormal wear is usually caused by incorrect tire pressure, improper wheel alignment, outof- balance wheels, severe braking or severe cornering...
A : Wiper speed control · MIST – Single wipe · OFF – Off · INT – Intermittent wipe · LO – Low wiper speed · HI – High wiper speed B : Intermittent control wipe time adjustment C :Wash with brief wipes Windshield Wipers Operates as follows when the Engine Start/Stop button is in the ON position...
Categories
Adjust the steering wheel so it points toward your chest, not toward your face. Make sure you can see the instrument cluster warning lights and gauges. After adjusting, push the steering wheel both up and down to be certain it is locked in position. Always adjust the position of the steering wheel before driving.
WARNING
NEVER adjust the steering wheel while driving. This may cause loss of vehicle control resulting in an accident.