Hyundai Ioniq: Engine Oil / Checking the Engine Oil and Filter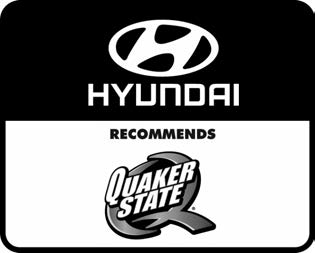 Have engine oil and filter changed by an authorized HYUNDAI dealer according to the Maintenance Schedule at the beginning of this chapter.
WARNING
CALIFORNIA PROPOSITION 65 WARNING
Engine oil contains chemicals known to the State of California to cause cancer, birth defects and reproductive harm. Used engine oil may cause irritation or cancer of the skin if left in contact with the skin for prolonged periods of time. Always protect your skin by washing your hands thoroughly with soap and warm water as soon as possible after handling used oil.
1. Follow all of the oil manufacturer's precautions. 2. Be sure the vehicle is on the level ground in P (Park) with the parking brake set. If possible, block the wheels...
The high-pressure cooling system has a reservoir filled with year-round antifreeze coolant. The reservoir is filled at the factory. Check the antifreeze protection and coolant level at least once a year, at the beginning of the winter season and before traveling to a colder climate...
Other information:
CAUTION Detach the speed restriction label (1) from the sealant bottle (2), and place it in a highly visible place inside the vehicle such as on the steering wheel to remind the driver not to drive too fast. 2. Screw the filling hose (3) onto the connector of the sealant bottle (2)...
..
Categories
Folding the rear seat
The rear seatbacks can be folded to facilitate carrying long items or to increase the luggage capacity of the vehicle.
WARNING
Never allow passengers to sit on top of the folded down seatback while the vehicle is moving. This is not a proper seating position and no seat belts are available for use. This could result in serious injury or death in case of an accident or sudden stop. Objects carried on the folded down seatback should not extend higher than the top of the front seatbacks. This could allow cargo to slide forward and cause injury or damage during sudden stops.