Hyundai Ioniq: Rail Pressure Sensor (RPS) / Description and operation
Rail Pressure Sensor (RPS) is installed on the delivery pipe and measures the instantaneous fuel pressure in the delivery pipe. The sensing element (Semiconductor element) built in the sensor converts the pressure to voltage signal. By using this signal, the ECM can control correct injection amount and timing and adjusts the fuel pressure with the fuel pressure regulator valve if the target pressure and the actual pressure calculated by the RPS output signal are different.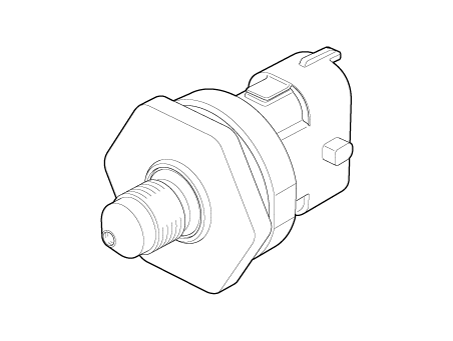 Other information:
DescriptionKnocking is a phenomenon characterized by undesirable vibration and noise and can cause engine damage. Knock Sensor (KS) is installed on the cylinder block and senses engine knocking.When knocking occurs, the vibration from the cylinder block is applied as pressure to the piezoelectric element...
The emission control system of your vehicle is covered by a written limited warranty. Please see the warranty information contained in the Owner's Handbook & Warranty Information booklet in your vehicle. Your vehicle is equipped with an emission control system to meet all applicable emission regulations...
Categories
The front seat can be adjusted by using the levers located on the outside of the seat cushion. Before driving, adjust the seat to the proper position so that you can easily control the steering wheel, foot pedals and controls on the instrument panel.
Forward and rearward adjustment