Hyundai Ioniq (AE) 2017-2023 Service Manual
Hyundai Ioniq (AE) 2017-2023 Service Manual
When the high voltage battery is discharged, when the 12-volt battery is discharged, or when the fuel tank is empty, the hybrid system may not operate while driving...
Other information:
Be sure to adjust mirror angles before driving. Your vehicle is equipped with both left-hand and right-hand side view mirrors. The mirrors can be adjusted remotely with the remote switch. The mirror heads can be folded to help prevent damage during an automatic car wash or when passing through a narrow street...
DescriptionThe High Voltage Battery System provides the hybrid drive motor, HSG, and electric A/C compressor with electric energy and also reserves the electric energy generated during regeneration braking.It consists of the battery pack assembly, BMS ECU, power relay assembly, case, control wiring, cooling fan, and cooling ducts...
Categories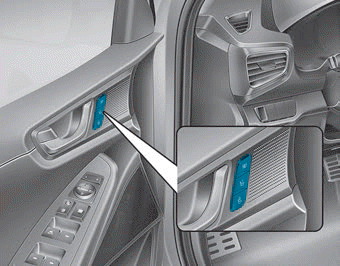 The Driver Position Memory System is provided to store and recall the following memory settings with a simple button operation.
- Driver's seat position
- Side view mirror position
- Instrument panel illumination intensity