Hyundai Ioniq: Engine Control System / Heated Oxygen Sensor (HO2S). Specifications
HO2S [Bank 1 / Sensor 1]
| | |
| --- | --- |
| Item | Specification |
| Heater Resistance (Ω) | 2.4 - 4.0 [20°C (68°F)] |
HO2S [Bank 1 / Sensor 2] (Binary Type)
| | |
| --- | --- |
| A/F Ratio (λ) | Output Voltage (V) |
| RICH | 0.6 - 1.0 |
| LEAN | 0 - 0.4 |
| | |
| --- | --- |
| Item | Specification |
| Heater Resistance (Ω) | Approx. 9.0 [20°C (68°F)] |
DescriptionHeated Oxygen Sensor (HO2S) consists of zirconium and alumina and is installed both upstream and downstream of the Manifold Catalytic Converter...
Other information:
Troubleshooting Symptom Suspect area Remedy Engine misfire with abnormal internal lower engine noises.Worn crankshaft bearings.Loose or damaged engine drive plate.Replace the crankshaft and bearings as required...
The SRS is virtually maintenancefree and there are no parts you can safely service by yourself. If the SRS air bag warning light does not illuminate when the Engine Start/Stop button is in the ON position, or continuously remains on, have your vehicle immediately inspected by an authorized HYUNDAI dealer...
Categories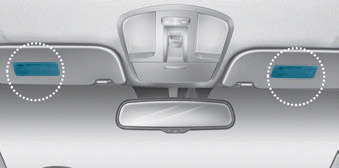 Air bag warning labels, required by the U.S. National Highway Traffic Safety Administration (NHTSA), are attached to alert the driver and passengers of potential risks of the air bag system. Be sure to read all of the information about the air bags that are installed on your vehicle in this Owners Manual.