Hyundai Ioniq: Electronic Stability Control (ESC) / Indicator lights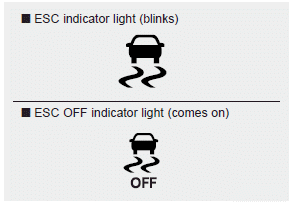 When the Engine Start/Stop button is placed to the ON position, the ESC indicator light illuminates, then goes off if the ESC system is operating normally.
The ESC indicator light blinks whenever the ESC is operating.
If ESC indicator light stays on, your vehicle may have a malfunction with the ESC system. When this warning light illuminates have your vehicle checked by an authorized HYUNDAI dealer as soon as possible.
The ESC OFF indicator light comes on when the ESC is turned off.
WARNING
When the ESC is blinking, this indicates the ESC is active:
Drive slowly and NEVER attempt to accelerate. NEVER turn the ESC off while the ESC indicator light is blinking or you may lose control of the vehicle resulting in an accident.
NOTICE
Driving with wheels and tires with different sizes may cause the ESC system to malfunction. Before replacing tires, make sure all four tires and wheels are the same size. Never drive the vehicle with different sized wheels and tires installed.
Categories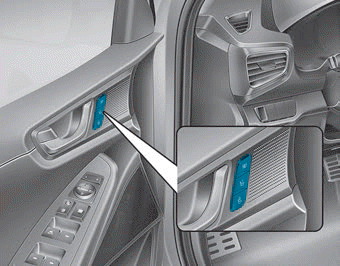 The Driver Position Memory System is provided to store and recall the following memory settings with a simple button operation.
- Driver's seat position
- Side view mirror position
- Instrument panel illumination intensity