Hyundai Ioniq: Maintenance / Tires and wheels
WARNING
Tire failure may cause loss of vehicle control resulting in an accident. To reduce risk of SERIOUS INJURY or DEATH, take the following precautions:
Inspect your tires monthly for proper inflation as well as wear and damage.
The recommended cold tire pressure for your vehicle can be found in this manual and on the tire label located on the driver's side center pillar. Always use a tire pressure gauge to measure tire pressure. Tires with too much or too little pressure wear unevenly causing poor handling.
Check the pressure of the spare every time you check the pressure of the other tires on your vehicle.
Replace tires that are worn, show uneven wear, or are damaged. Worn tires can cause loss of braking effectiveness, steering control, or traction.
ALWAYS replace tires with the same size as each tire that was originally supplied with this vehicle. Using tires and wheels other than the recommended sizes could cause unusual handling characteristics, poor vehicle control, or negatively affect your vehicle's Anti-Lock Brake System (ABS) resulting in a serious accident.
For proper maintenance, safety, and maximum fuel economy, you must always maintain recommended tire inflation pressures and stay within the load limits and weight distribution recommended for your vehicle...
Other information:
C..
Specification Item Brake Pedal Release Brake Pedal Push Switch 1Max. 0.5VBattery VoltageSwitch 2IG OFFMax. 50 mVIG ONBattery VoltageMax. 0.5V Items Specification Gap [mm (in)]1...
Categories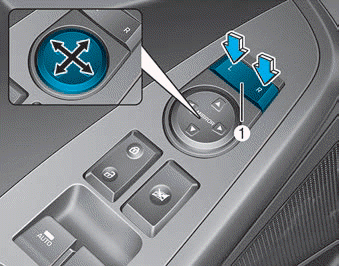 Adjusting the side mirrors:
1. Press either the L (driver's side) or R (passenger's side) button (1) to select the side view mirror you would like to adjust.