Hyundai Ioniq: Windshield Defrosting and Defogging / To Defrost Outside Windshield, Defogging Logic
To Defrost Outside Windshield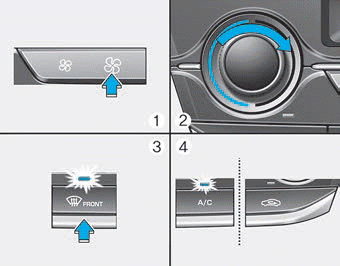 1. Set the fan speed to the highest (extreme right) position.
2. Set the temperature to the extreme hot (HI) position.
3. Press the defroster button (

).
4. The outside (fresh) air position will be selected automatically.
If the
position is selected, lower fan speed is adjusted to a higher fan speed.
Defogging Logic
To reduce the probability of fogging up the inside of the windshield, the air intake or air conditioning are controlled automatically according to certain conditions such as

or

positions. To cancel or return the defogging logic, do the following.
1. Place the Engine Start/Stop button to the ON position.
2. Press the defroster button (

).
3. While pressing the air conditioning button (A/C), press the air intake control button at least 5 times within 3 seconds.
The air intake control button indicator will blink 3 times. It indicates that the defogging logic is canceled or returned to the programmed status.
If the battery has been discharged or disconnected, it resets to the defog logic status.
Categories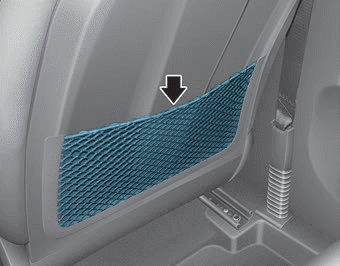 The seatback pocket is provided on the back of the front passenger's seatback.
WARNING
To prevent the Occupant Classification System from malfunctioning: