Hyundai Ioniq: Rear Seats / Armrest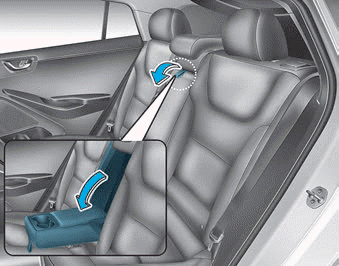 The armrest is located in the center of the rear seat. Use the strap in the center of the armrest to pull it down.
CAUTION
Be careful when loading cargo through the rear passenger seats to prevent damage to the vehicle interior.
When cargo is loaded through the rear passenger seats, ensure the cargo is properly secured to prevent it from moving while driving.
Unsecured cargo in the passenger compartment can cause damage to the vehicle or injury to it's occupants.
Categories
The front seat can be adjusted by using the levers located on the outside of the seat cushion. Before driving, adjust the seat to the proper position so that you can easily control the steering wheel, foot pedals and controls on the instrument panel.
Forward and rearward adjustment