Hyundai Ioniq: Manual Heating and Air Conditioning / Temperature control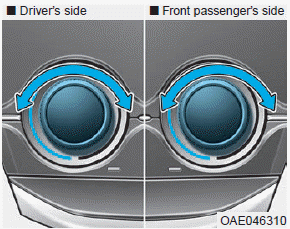 Turn the knob to the right to increase the temperature. Turn the knob to the left to decrease temperature.
The temperature will increase or decrease by 1°F/0.5°C.
Temperature conversion
If the battery has been discharged or disconnected, the temperature mode display will reset to Fahrenheit.
To change the temperature unit from °F to °C or °C to °F:
- On the instrument cluster, go to User Settings Mode ➝ Other (Features) ➝ Temperature Unit.
- Press and hold the AUTO and OFF buttons on the climate control unit for 3 seconds.
The temperature unit on both on the cluster LCD display and climate control information screen will change.
Categories
Folding the rear seat
The rear seatbacks can be folded to facilitate carrying long items or to increase the luggage capacity of the vehicle.
WARNING
Never allow passengers to sit on top of the folded down seatback while the vehicle is moving. This is not a proper seating position and no seat belts are available for use. This could result in serious injury or death in case of an accident or sudden stop. Objects carried on the folded down seatback should not extend higher than the top of the front seatbacks. This could allow cargo to slide forward and cause injury or damage during sudden stops.