Hyundai Ioniq: High Voltage Battery Control System / Battery Temperature Sensor. Repair procedures
| | |
| --- | --- |
| • | Be sure to read and follow the "General Safety Information and Caution" before doing any work related with the high voltage system. Failure to follow the safety instructions may result in serious electrical injuries. |
1.

Shut off the high voltage.

(Refer to Hybrid Control System - "High Voltage Shut-off Procedures")
2.

Remove the high voltage battery pack assembly.

(Refer to High Voltage Battery System - "Battery Pack Assembly")
| | |
| --- | --- |
| 3. | Remove the battery pack assembly rear cover (A) after loosening the mounting nuts. |
| | |
| --- | --- |
| 4. | Remove the battery temperature sensor (A). |
| | |
| --- | --- |
| • | Be sure to read and follow the "General Safety Information and Caution" before doing any work related with the high voltage system. Failure to follow the safety instructions may result in serious electrical injuries. |
| | |
| --- | --- |
| 1. | Install the battery temperature sensors in the reverse order of removal. |
| | |
| --- | --- |
| • | Be sure to read and follow the "General Safety Information and Caution" before doing any work related with the high voltage system. Failure to follow the safety instructions may result in serious electrical injuries. |
1.

Shut off the high voltage circuit.

(Refer to Hybrid Control System - "High Voltage Shut-off Procedures")
| | |
| --- | --- |
| 2. | Connect the GDS to the Data Link Connector (DLC). |
| | |
| --- | --- |
| 3. | Turn the ignition switch ON. |
| | |
| --- | --- |
| 4. | Check the battery temperature in GDS service data. |
| | |
| --- | --- |
| 5. | Disconnect the battery temperature signal connector (A). |
6.

Measure resistances of the temperature signal terminals (Refer to the table below), then compare the value with the GDS service data.

| | |
| --- | --- |
| Item | Terminals |
| Module 1 | BMS ECU B01-T (1), (7) |
| Module 4 | BMS ECU B01-T (2), (8) |
| Air Inlet | BMS ECU B01-T (4), (10) |




Specification : Refer to "Specification"
Other information:
The severe weather conditions of winter quickly wear out tires and cause other problems. To minimize winter driving problems, you should take the following suggestions: Snow or Icy Conditions You need to keep sufficient distance between your vehicle and the vehicle in front of you...
Battery saver function The purpose of this feature is to prevent the battery from being discharged. The system automatically turns off the parking lamp when the driver turns the vehicle off and opens the driver-side door. With this feature, the parking lamps will turn off automatically if the driver parks on the side of road at night...
Categories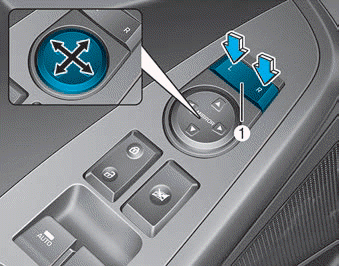 Adjusting the side mirrors:
1. Press either the L (driver's side) or R (passenger's side) button (1) to select the side view mirror you would like to adjust.