Hyundai Ioniq: Engine Oil / Checking the Engine Oil Level
1. Follow all of the oil manufacturer's precautions.
2. Be sure the vehicle is on the level ground in P (Park) with the parking brake set. If possible, block the wheels.
3. Turn the engine on and allow the engine to reach normal operating temperature.
4. Turn the engine off and wait about five minutes for the oil to return to the oil pan.
5. Pull the dipstick out, wipe it clean, and re-insert it fully.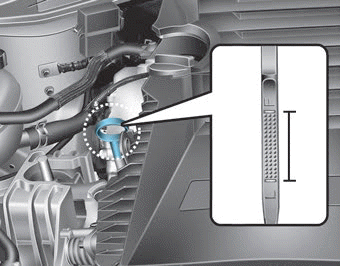 6. Pull the dipstick out again and check the level. The level should be between F (Full) and L (Low).
7. If it is near or at L, add enough oil to bring the level to F.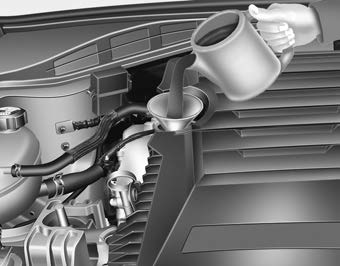 NOTICE
To prevent damage to your engine:
Do not overfill with engine oil. Add oil in small quantities and recheck level to ensure engine is not overfilled.
Do not spill engine oil when adding or changing engine oil. Use a funnel to help prevent oil from being spilled on engine components. Wipe off spilled oil immediately.
Information
Use only the specified engine oil (refer to "Recommended Lubricants and Capacities" in chapter 8).
WARNING
The electric motor for the cooling fan may continue to operate or start up when the engine is not running and can cause serious injury. Keep hands, clothing and tools away from the rotating fan blades of the cooling fan.
Have engine oil and filter changed by an authorized HYUNDAI dealer according to the Maintenance Schedule at the beginning of this chapter. WARNING CALIFORNIA PROPOSITION 65 WARNING Engine oil contains chemicals known to the State of California to cause cancer, birth defects and reproductive harm...
Other information:
The heating and cooling system can be controlled manually by pushing buttons other than the AUTO button. In this case, the system works sequentially according to the order of buttons selected. When pressing any button except the AUTO button while using automatic operation, the functions not selected will be controlled automatically...
L..
Categories
Seat belt warning light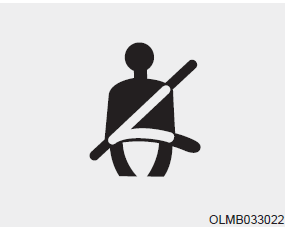 As a reminder to the driver, the seat belt warning light will illuminate and warning chime will sound for approximately 6 seconds each time you place the Engine Start/Stop button to the ON position if the seat belt is unfastened.