Hyundai Ioniq: Driving your vehicle / Engine Start/Stop Button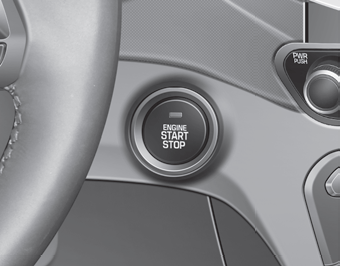 Whenever the front door is opened, the Engine Start/Stop button will illuminate and will go off 30 seconds after the door is closed.
WARNING
To reduce risk of serious injury or death, NEVER allow children or any person who is unfamiliar with the vehicle to touch the Engine Start/Stop button or related parts. Unexpected and sudden vehicle movement can occur.
WARNING
To turn the vehicle off in an emergency:
Press and hold the Engine Start/Stop button for more than two seconds OR rapidly press and release the Engine Start/ Stop button three times (within three seconds).
If the vehicle is still moving, you can restart the engine without depressing the brake pedal by pressing the Engine Start/Stop button with the shift lever in the N (Neutral) position.
WARNING
NEVER press the Engine Start/Stop button while the vehicle is in motion except in an emergency. This will result in the engine turning off and loss of power assist for the steering and brake systems. This may lead to loss of directional control and braking function, which could cause an accident.
Before leaving the driver's seat, always make sure the shift lever is in the P (Park) position, set the parking brake, press the Engine Start/ Stop button to the OFF position, and take the Smart Key with you. Unexpected vehicle movement may occur if these precautions are not followed.
NEVER reach through the steering wheel for the Engine Start/Stop button or any other control while the vehicle is in motion. The presence of your hand or arm in this area may cause a loss of vehicle control resulting in an accident.
Before Entering the Vehicle Be sure all windows, outside mirror( s), and outside lights are clean and unobstructed. Remove frost, snow, or ice. Visually check the tires for uneven wear and damage...
Other information:
Specification Item Brake Pedal Release Brake Pedal Push Switch 1Max. 0.5VBattery VoltageSwitch 2IG OFFMax. 50 mVIG ONBattery VoltageMax. 0.5V Items Specification Gap [mm (in)]1...
DescriptionThe continuous variable valve timing (CVVT) system advances or retards the opening of an intake or exhaust valve according to the ECM signals that are determined based on engine RPM and load.Due to CVVT control, a valve overlap or underlap occurs between the intake valve and exhaust valve, resulting in the reduction of pumping loss, recirculation of exhaust gas, improvement in combustion stability and volumetric efficiency, and increase in expansion work...
Categories
Seat belt warning light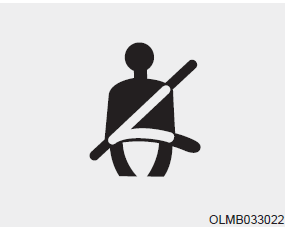 As a reminder to the driver, the seat belt warning light will illuminate and warning chime will sound for approximately 6 seconds each time you place the Engine Start/Stop button to the ON position if the seat belt is unfastened.