Hyundai Ioniq: Exterior Lights / Lighting control
To operate the lights, turn the knob at the end of the control lever to one of the following positions: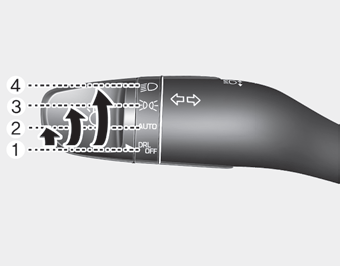 1. DRL (Daytime Running Lights) OFF position
2. AUTO light position
3. Parking lamp position
4. Headlamp position
Daytime running light (DRL) (if equipped)
The Daytime Running Lights (DRL) can make it easier for others to see the front of your vehicle during the day, especially after dawn and before sunset.
The DRL system will turn the dedicated lamp OFF when :
The light switch is in the DRL OFF position.
The headlamps are ON.
The parking lamps are ON.
The vehicle is turned off.
AUTO light position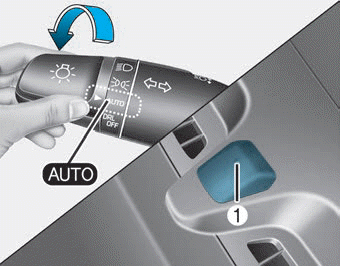 The parking lamp and headlamp will be turned ON or OFF automatically depending on the amount of light outside the vehicle.
Even with the AUTO light feature in operation, it is recommended to manually turn ON the lamps when driving at night or in a fog, driving in the rain, or when you enter dark areas, such as tunnels and parking facilities.
NOTICE
Do not cover or spill anything on the sensor (1) located in front of the instrument panel.
Do not clean the sensor using a window cleaner, the cleanser may leave a light film which could interfere with sensor operation.
If your vehicle has window tint or other types of metallic coating on the front windshield, the AUTO light system may not work properly.
Parking lamp position (

)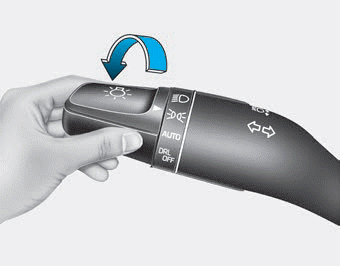 The parking lamp, license plate lamp and instrument panel lamp are turned ON.
Headlamp position (

)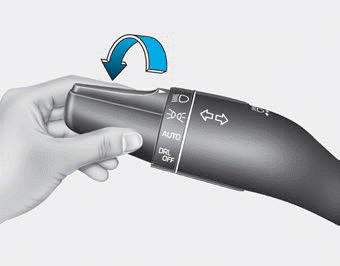 The headlamp, parking lamp, license plate lamp and instrument panel lamp are turned ON.
Information
The Engine Start/Stop button must be in the ON position to turn on the headlamp.
To turn on the high beam headlamp, push the lever away from you. The lever will return to its original position. The high beam indicator will light when the headlamp high beams are switched on...
Other information:
This warning light is to warn the driver the road may be icy. When the temperature on the outside temperature gauge is approximately below 40°F (4°C), the Icy Road Warning Light and Outside Temperature Gauge blinks and then illuminates. Also, the warning chime sounds 1 time...
Always fasten your seat belt and make sure all passengers have fastened their seat belts before starting any trip. Air bags are designed to supplement the seat belt as an additional safety device, but they are not a substitute. Most states require all occupants of a vehicle to wear seat belts...