Hyundai Ioniq: High Voltage Battery System / Description and operation
The High Voltage Battery System provides the hybrid drive motor, HSG, and electric A/C compressor with electric energy and also reserves the electric energy generated during regeneration braking.It consists of the battery pack assembly, BMS ECU, power relay assembly, case, control wiring, cooling fan, and cooling ducts.
This battery is a Lithium ion Polymer Battery (LiPB) and has 64 cells (16 Cells x 4 Modules). The voltage of each cell is 3.75V DC, so the rated voltage of this battery pack is 240V DC.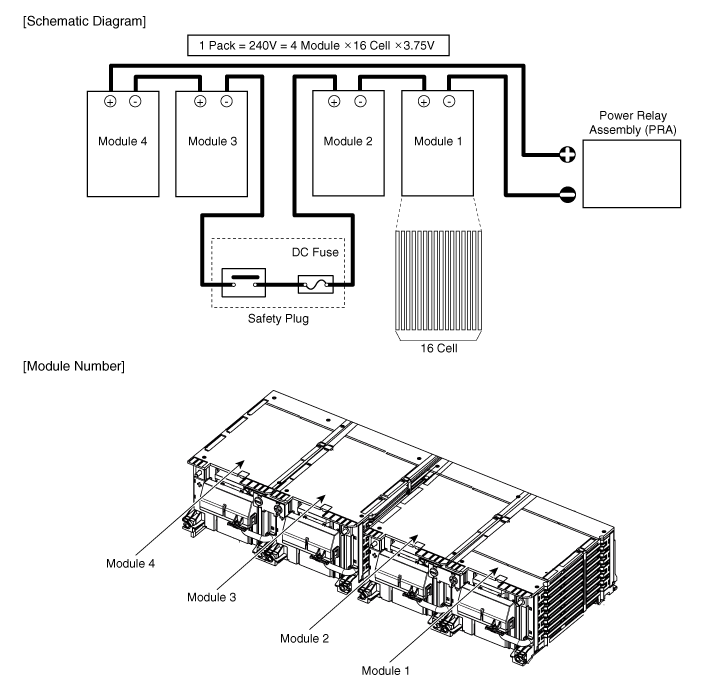 Components1. High Voltage Battery Module2. Power Relay Assembly (PRA)3. BMS4. Cooling Fan5. Safeety Plug6. Battery Temperature Sensor7. High Voltage Battery Plate8...
Other information:
The wheels on your vehicle were aligned and balanced carefully at the factory to give you the longest tire life and best overall performance. In most cases, you will not need to have your wheels aligned again. However, if you notice unusual tire wear or your vehicle pulling one way or the other, the alignment may need to be reset...
NOTICE It is permissible to add 3 psi to the standard tire pressure specification if colder temperatures are expected soon. Tires typically loose 1psi (7kPa) for every 12°F temperature drop. If extreme temperature variations are expected, recheck your tire pressure as necessary to keep them properly inflated...
Categories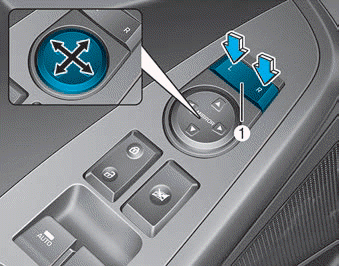 Adjusting the side mirrors:
1. Press either the L (driver's side) or R (passenger's side) button (1) to select the side view mirror you would like to adjust.