Hyundai Ioniq: High Voltage Battery Control System / Main Relay. Repair procedures
| | |
| --- | --- |
| • | Be sure to read and follow the "General Safety Information and Caution" before doing any work related with the high voltage system. Failure to follow the safety instructions may result in serious electrical injuries. |
1.

Shut off the high voltage.

(Refer to Hybrid Control System - "High Voltage Shut-off Procedures")
2.

Remove the rear seat cushion.

(Refer to Body - "Rear Seat Assembly")
3.

Remove the rear door scuff trim.

(Refer to Body - "Door Scuff Trim")
| | |
| --- | --- |
| 4. | Remove the upper frame (A) after loosening the mounting bolts and nuts. |
| | |
| --- | --- |
| 5. | Remove the high voltage battery rear cover (A) after loosening the mounting bolts and nuts. |
6.

Remove the inlet cooling duct.

(Refer to Hybrid Control System - "Cooling Duct")
| | |
| --- | --- |
| 7. | Disconnect the main relay (+) (A), and main relay (-) (B). |
| | |
| --- | --- |
| • | Be sure to read and follow the "General Safety Information and Caution" before doing any work related with the high voltage system. Failure to follow the safety instructions may result in serious electrical injuries. |
1.

Install the main relay in the reverse order of removal.

High voltage battery top cover installation bolt / nut :

7.8 - 11.8 N.m (0.8 - 1.2 kgf.m, 5.8 - 8.7 lb-ft)
| | |
| --- | --- |
| • | Be sure to read and follow the "General Safety Information and Caution" before doing any work related with the high voltage system. Failure to follow the safety instructions may result in serious electrical injuries. |
Checking for Welding in the High Voltage Main Relay
[Using GDS service data to check for main relay weld damage]
| | |
| --- | --- |
| 1. | Connect the GDS to the Data Link Connector (DLC). |
| | |
| --- | --- |
| 2. | Turn the ignition switch ON. |
| | |
| --- | --- |
| 3. | Check the BMS weld damage state in the GDS service data. |
[Using a Multimeter to measure weld damage]
1.

Shut off the high voltage.

(Refer to Hybrid Control System - "High Voltage Shut-off Procedures")
2.

Remove the high voltage battery rear cover.

(Refer to High Voltage Battery System - "Case")
3.

Remove the inlet cooling duct.

(Refer to Hybrid Control System - "Cooling Duct")
4.

Measure the high voltage main relay resistance and check for signs of weld damage.

Specification : ∞Ω [20°C (68°F)]
High voltage main relay (-) switch resistance
1.

Shut off the high voltage.

(Refer to Hybrid Control System - "High Voltage Shut-off Procedures")
2.

Remove the high voltage battery rear cover.

(Refer to High Voltage Battery System - "Case")
3.

Remove the inlet cooling duct.

(Refer to Hybrid Control System - "Cooling Duct")
| | |
| --- | --- |
| 4. | Measure the resistance between the high voltage power terminal (-) and the inverter power terminal (-). |
[Circuit inspection (Relay ON)]
| | |
| --- | --- |
| • | Inspect the high voltage main relay (-) activated by GDS. |
| | |
| --- | --- |
| 1. | Connect the GDS to the Data Link Connector (DLC). |
| | |
| --- | --- |
| 2. | Turn the ignition switch ON. |
3.

Activate the main relay by using "Actuation Test" on the GDS as shown in the illustration below.

| | |
| --- | --- |
| • | When the relay is ON, there is a relay operation sound. |
High Voltage Main Relay Coil Resistance
1.

Shut off the high voltage.

(Refer to Hybrid Control System - "High Voltage Shut-off Procedures")
2.

Remove the power relay assembly.

(Refer to High Battery System - "Power Relay Assembly")
| | |
| --- | --- |
| 3. | Check for continuity between the terminals using an ohmmeter. |
DescriptionThe Power Relay Assembly (PRA) consists of the positive and negative main relays, pre-charge relay, pre-charge resistor and battery current sensor...
Other information:
When Driving The ESC OFF mode should only be used briefly to help free the vehicle if stuck in snow or mud by temporarily stopping operation of the ESC to maintain wheel torque. To turn ESC off while driving, press the ESC OFF button while driving on a flat road surface...
Always come to a complete stop and continue to depress the brake pedal. Move the shift lever into the P (Park) position, apply the parking brake, and place the Engine Start/Stop button in the OFF position. Take the key with you when exiting the vehicle...
Categories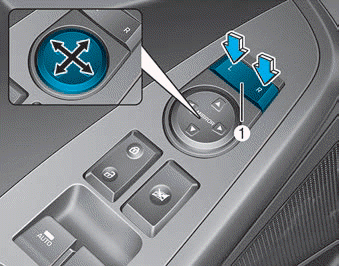 Adjusting the side mirrors:
1. Press either the L (driver's side) or R (passenger's side) button (1) to select the side view mirror you would like to adjust.