Hyundai Ioniq: Windows / Power Windows
The Engine Start/Stop button must be in the ON position to be able to raise or lower the windows. Each door has a Power Window switch to control that door's window. The driver has a Power Window Lock switch which can block the operation of passenger windows. The power windows will operate for approximately 30 seconds after the Engine Start/Stop button is placed in the ACC or OFF position. However, if the front doors are opened, the Power Windows will not operate even within the 30 seconds period.
WARNING
To avoid serious injury or death, do not extend your head, arms or body outside the windows while driving.
Information
In cold and wet climates, power windows may not work properly due to freezing conditions.
While driving with the rear windows down or with the sunroof (if equipped) opened (or partially opened), your vehicle may demonstrate a wind buffeting or pulsation noise. This noise is normal and can be reduced or eliminated by taking the following actions. If the noise occurs with one or both of the rear windows down, partially lower both front windows approximately one inch (2.5 cm). If you experience the noise with the sunroof open, slightly close the sunroof.
To open: Press the window switch down to the first detent position (5). Release the switch when you want the window to stop. To close: Pull the window switch up to the first detent position (5)...
Other information:
1. Position the vehicles close enough that the jumper cables will reach, but do not allow the vehicles to touch. 2. Avoid fans or any moving parts in the engine compartment at all times, even when the vehicles are turned off. 3. Turn off all electrical devices such as radios, lights, air conditioning, etc...
WARNING Windshield heating Do not use the or position during cooling operation in extremely humid weather. The difference between the temperature of the outside air and that of the windshield could cause the outer surface of the windshield to fog up, causing loss of visibility could cause an accident resulting in serious injury or death...
Categories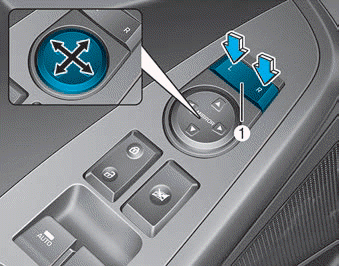 Adjusting the side mirrors:
1. Press either the L (driver's side) or R (passenger's side) button (1) to select the side view mirror you would like to adjust.