Hyundai Ioniq: Smart Cruise Control System / Smart Cruise Control Vehicleto- Vehicle Distance
To set Vehicle-to-Vehicle Distance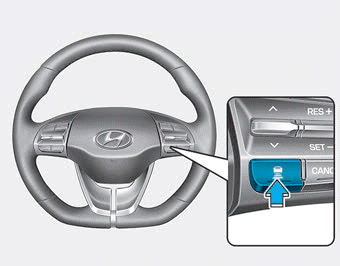 When the Smart Cruise Control System is ON, you can set and maintain the distance from the vehicle ahead of you without pressing the accelerator or brake pedal.
Each time the button is pressed, the vehicle to vehicle distance changes as follows:

For example, if you drive at 56 mph (90 km/h), the distance is maintained as follows:
Distance 4 - approximately 172 feet
Distance 3 - approximately 130 feet
Distance 2 - approximately 106 feet
Distance 1 - approximately 82 feet
Information
The distance is set to the last set distance when the system is used for the first time after the vehicle is in the ready (
) mode.
When the lane ahead is clear: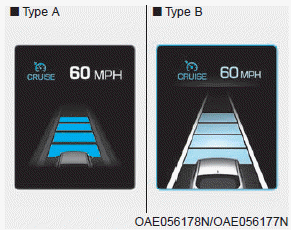 The vehicle speed will maintain the set speed.
When there is a vehicle ahead of you in your lane:

Your vehicle speed will slow down or speed up to maintain the selected distance.
If the vehicle ahead speeds up, your vehicle will travel at a steady cruising speed after accelerating to the set speed.
WARNING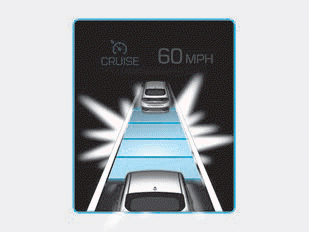 When using the Smart Cruise Control System:
The warning chime sounds and the Vehicle-to Vehicle Distance indicator blinks if the vehicle is unable to maintain the selected distance from the vehicle ahead.
If the warning chime sounds, depress the brake pedal or use the steering wheel toggle switch to actively adjust the vehicle speed, and the distance to the vehicle ahead.
Even if the warning chime is not activated, always pay attention to the driving conditions to prevent dangerous situations from occurring.
Playing the vehicle audio system at high volume may offset the system warning sounds.
CAUTION
If the vehicle ahead (vehicle speed: less than 20 mph (30 km/h)) disappears to the next lane, the warning chime will sound and a message "Watch for surrounding vehicles" will appear. Adjust your vehicle speed for vehicles or objects that can suddenly appear in front of you by depressing the brake pedal.
Always pay attention to the road condition ahead.
Categories
Folding the rear seat
The rear seatbacks can be folded to facilitate carrying long items or to increase the luggage capacity of the vehicle.
WARNING
Never allow passengers to sit on top of the folded down seatback while the vehicle is moving. This is not a proper seating position and no seat belts are available for use. This could result in serious injury or death in case of an accident or sudden stop. Objects carried on the folded down seatback should not extend higher than the top of the front seatbacks. This could allow cargo to slide forward and cause injury or damage during sudden stops.