Hyundai Ioniq: Convenient features of your vehicle / Wipers and Washers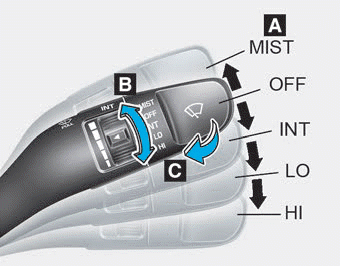 A : Wiper speed control
· MIST – Single wipe
· OFF – Off
· INT – Intermittent wipe
· LO – Low wiper speed
· HI – High wiper speed
B : Intermittent control wipe time adjustment
C :Wash with brief wipes
Windshield Wipers
Operates as follows when the Engine Start/Stop button is in the ON position.
MIST : For a single wiping cycle, push the lever upward and release. The wipers will operate continuously if the lever is held in this position.
OFF : Wiper is not in operation.
INT : Wiper operates intermittently at the same wiping intervals. To vary the speed setting, move the speed control lever. The top most setting will run the wipers most frequently (for more rain). The bottom setting will run the wipers the least frequently (for less rain).
LO : The wiper runs at a lower speed.
HI : The wiper runs at a higher speed.
Information
If there is heavy accumulation of snow or ice on the windshield, defrost the windshield for about 10 minutes, or until the snow and/or ice is removed before using the windshield wipers to ensure proper operation.
If you do not remove the snow and/or ice before using the wiper and washer, it may damage the wiper and washer system.
Windshield Washers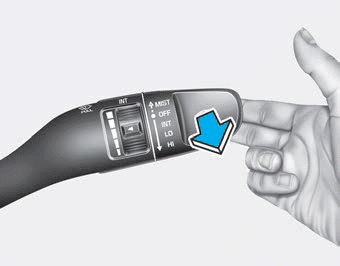 In the OFF position, pull the lever gently toward you to spray washer fluid on the windshield and to run the wipers 1-3 cycles. The spray and wiper operation will continue until you release the lever. If the washer does not work, you may need to add washer fluid to the washer fluid reservoir.
WARNING
When the outside temperature is below freezing, ALWAYS warm the windshield using the defroster to help prevent the washer fluid from freezing on the windshield and obscuring your vision which could result in an accident and serious injury or death.
NOTICE
To prevent possible damage to the washer pump, do not operate the washer when the fluid reservoir is empty.
To prevent possible damage to the wipers or windshield, do not operate the wipers when the windshield is dry.
To prevent damage to the wiper arms and other components, do not attempt to move the wipers manually.
To prevent possible damage to the wipers and washer system, use anti-freezing washer fluids in the winter season or cold weather.