Hyundai Ioniq: Driving the Hybrid/Plug-in Hybrid Vehicle / AVN Screen (Plug-in hybrid vehicle)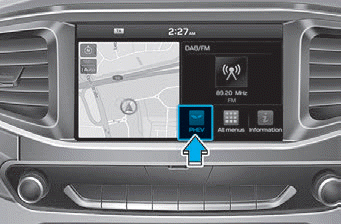 Press [PHEV] on the [Home] screen or the [All menus] screen and the menus related to plug-in hybrid ([ECO Driving], [Energy Information], [EV Range], [Charging Settings], [Charging Stations], [Gas Stations]) are displayed.
EV/HEV Button Pressing the [EV/HEV] button changes the plug-in hybrid system modes, between Electric (CD) mode and Hybrid (CS) mode. Each time the mode is changed a corresponding indicator is displayed on the instrument cluster as follows...
The Aux. Battery Saver+ is a function that monitors the charging status of the 12 V auxiliary battery. If the auxiliary battery level is low, the main high voltage battery charges the auxiliary battery...
Other information:
Tripmeter (1) The tripmeter is the total driving distance since the last tripmeter reset. To reset the tripmeter, press the OK button on the steering wheel for more than 1 second when the tripmeter is displayed. Average Vehicle Speed (2) The average vehicle speed is calculated by the total driving distance and driving time since the last average vehicle speed reset...
L..
Categories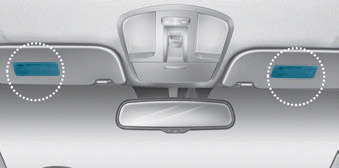 Air bag warning labels, required by the U.S. National Highway Traffic Safety Administration (NHTSA), are attached to alert the driver and passengers of potential risks of the air bag system. Be sure to read all of the information about the air bags that are installed on your vehicle in this Owners Manual.