Hyundai Ioniq: Tire Pressure Monitoring System (TPMS) / Check Tire Pressure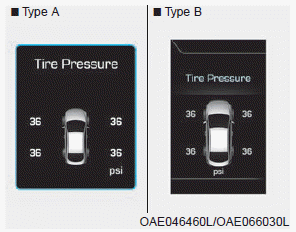 You can check the tire pressure in the Information Mode (for cluster type A) or Assist Mode (for cluster type B) on the cluster. Refer to the "LCD Display Modes" in chapter 3.
Tire pressure is displayed after a few minutes of driving after initial engine start up.
If tire pressure is not displayed when the vehicle is stopped, "Drive to display" message will appear. After driving, check the tire pressure.
The displayed tire pressure values may differ from those measured with a tire pressure gauge.
You can change the tire pressure unit in the User Settings mode on the cluster.
WARNING Over-inflation or under-inflation can reduce tire life, adversely affect vehicle handling, and lead to sudden tire failure that may cause loss of vehicle control resulting in an accident...
Other information:
1. Position the vehicles close enough that the jumper cables will reach, but do not allow the vehicles to touch. 2. Avoid fans or any moving parts in the engine compartment at all times, even when the vehicles are turned off. 3. Turn off all electrical devices such as radios, lights, air conditioning, etc...
In this mode, you can change the settings of the instrument cluster, doors, lamps, etc. 1. Driver Assistance 2. Door 3. Lights 4. Convenience 5. Service Interval 6. Other (Features) 7. Reset 1. Driver Assistance • Lane Safety - Lane Departure Warning/ Standard LKA/Active LKA To adjust the sensitivity of the Lane Keeping Assist (LKA) System...
Categories
The front seat can be adjusted by using the levers located on the outside of the seat cushion. Before driving, adjust the seat to the proper position so that you can easily control the steering wheel, foot pedals and controls on the instrument panel.
Forward and rearward adjustment