Hyundai Ioniq: What to do in an emergency / If the 12 Volt Battery is Discharged (Hybrid Vehicle)
Before Jump Starting
This vehicle does not have a regular 12V battery that needs periodic replacement. It is lithium ion polymer type integrated into the HEV high voltage battery. The vehicle has a 12V battery protection system that cuts 12V battery from vehicle draw to prevent full discharge.
Using the 12V Battery Reset Switch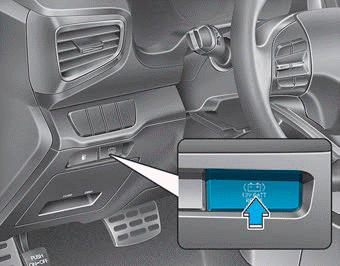 1. Press the 12V Battery Reset switch to reconnect the 12V battery.
2. Start the vehicle within 15 seconds of pressing the 12V Battery Reset switch.
3. After starting vehicle (

indicator on), operate the vehicle safely outdoors in ready mode stopped and/or drive it for 30 minutes total to charge the 12V battery fully. If you do not start the vehicle immediately after pressing the 12V Battery Reset switch, the power of 12V battery is automatically disconnected after few seconds to save the 12V battery from additional discharge. If the 12V battery is disconnected prior to starting the vehicle, press the 12V Battery Reset switch again and then immediately start the vehicle as explained.
Repeated use of the 12V Battery Reset switch without a sufficient engine ON cycle (30 Min+) may cause over discharge of the 12V battery, which will prevent the vehicle from starting. If the 12V battery is over discharged to a point that the reset does not work, try to jump-start the vehicle.
Information
After starting the vehicle (
indicator on), the 12V battery is being charged whether the engine is running or not. Although there is no enginesound, it is unnecessary to depress the accelerator pedal.
The following items may need to be reset after the battery has been discharged or the battery has been disconnected. See chapter 3 or 4 for:
Power Windows
Trip Computer
Climate Control System
Clock
Audio System
Sunroof
Driver Position Memory System
NOTICE
External power source using 12V battery
The use of external power accessories may reduce performance and function of the vehicle. Especially, the use of dash cameras may shut off the power of the vehicle prior to the dash camera's automatic shut-down.
If the power of the vehicle is shut off, start the vehicle as explained. (refer to "Using the 12V Battery Switch")