Hyundai Ioniq: Maintenance / Climate Control Air Filter
Filter Inspection
The climate control air filter should be replaced according to the Maintenance Schedule. If the vehicle is operated in severely air-polluted cities or on dusty rough roads for a long period, it should be inspected more frequently and replaced earlier. When you replace the climate control air filter, replace it performing the following procedure, and be careful to avoid damaging other components.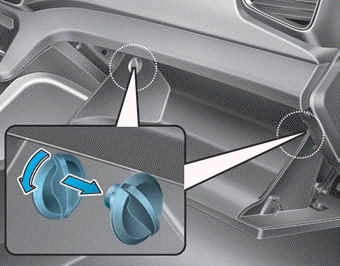 1. With the glove box open, remove the stoppers on both sides.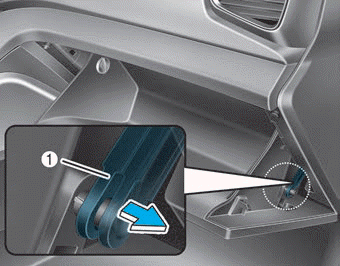 2. Remove the support rod (1).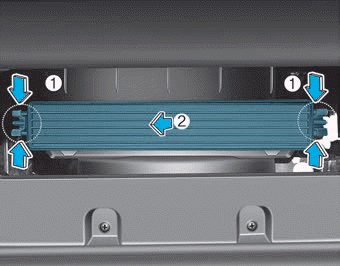 3. Press and hold the lock (1) on both sides of the cover.
4. Pull out (2) the cover.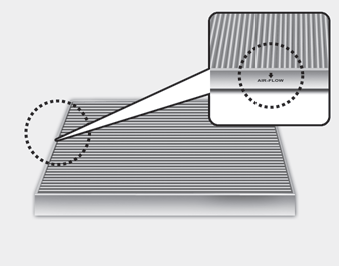 5. Replace the climate control air filter.
6. Reassemble in the reverse order of disassembly.
NOTICE
Install a new climate control air filter in the correct direction with the arrow symbol (↓) facing downwards, otherwise, it may be noisy and the effectiveness of the filter may be reduced.
Categories
Folding the rear seat
The rear seatbacks can be folded to facilitate carrying long items or to increase the luggage capacity of the vehicle.
WARNING
Never allow passengers to sit on top of the folded down seatback while the vehicle is moving. This is not a proper seating position and no seat belts are available for use. This could result in serious injury or death in case of an accident or sudden stop. Objects carried on the folded down seatback should not extend higher than the top of the front seatbacks. This could allow cargo to slide forward and cause injury or damage during sudden stops.