Hyundai Ioniq: What to do in an emergency / Towing
Towing Service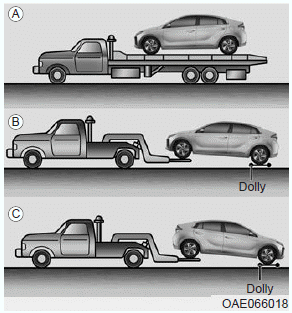 If emergency towing is necessary, we recommend having it done by an authorized HYUNDAI dealer or a commercial tow-truck service.
Proper lifting and towing procedures are necessary to prevent damage to the vehicle. The use of wheel dollies or flatbed is recommended.
It is acceptable to tow the vehicle with the rear wheels on the ground (without dollies) and the front wheels off the ground.
If any of the loaded wheels or suspension components are damaged or the vehicle is being towed with the front wheels on the ground, use a towing dolly under the front wheels.
When being towed by a commercial tow truck and wheel dollies are not used, the front of the vehicle should always be lifted, not the rear.
CAUTION
• Do not tow the vehicle with the front wheels on the ground as this may cause damage to the vehicle.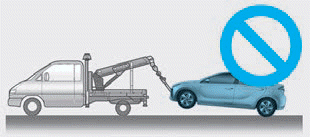 • Do not tow with sling-type equipment. Use wheel lift or flatbed equipment.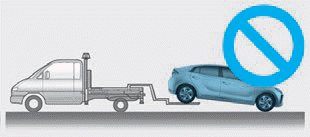 When towing your vehicle in an emergency without wheel dollies :
1. Place the Engine Start/Stop button in the ACC position.
2. Place the shift lever in N (Neutral).
3. Release the parking brake.
CAUTION
Failure to place the transmission shift lever in N (Neutral) may cause internal damage to the transmission.
Categories
Adjust the steering wheel so it points toward your chest, not toward your face. Make sure you can see the instrument cluster warning lights and gauges. After adjusting, push the steering wheel both up and down to be certain it is locked in position. Always adjust the position of the steering wheel before driving.
WARNING
NEVER adjust the steering wheel while driving. This may cause loss of vehicle control resulting in an accident.