Hyundai Ioniq: Manifold Absolute Pressure Sensor (MAPS) / Description and operation
Manifold Absolute Pressure Sensor (MAPS) is a speed-density type sensor and is installed on the surge tank. It senses absolute pressure of the surge tank and transfers the analog signal proportional to the pressure to the ECM. By using this signal, the ECM calculates the intake air quantity and engine speed.
The MAPS consists of a piezo-electric element and a hybrid IC amplifying the element output signal. The element is silicon diaphragm type and adapts pressure sensitive variable resistor effect of semi-conductor. Because 100% vacuum and the manifold pressure apply to both sides of the sensor respectively, this sensor can output analog signal by using the silicon variation proportional to pressure change.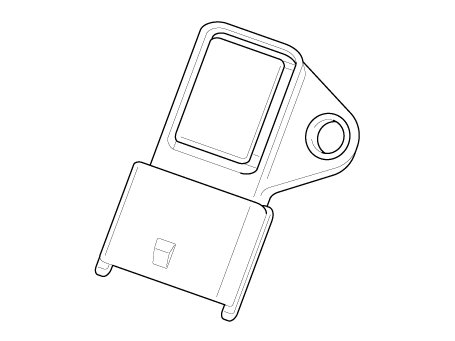 Specification Pressure [kPa (kgf/cm², psi)] Output Voltage (V) 20...
Other information:
WARNING Windshield heating Do not use the or position during cooling operation in extremely humid weather. The difference between the temperature of the outside air and that of the windshield could cause the outer surface of the windshield to fog up, causing loss of visibility could cause an accident resulting in serious injury or death...
DescriptionThe Power Relay Assembly (PRA) consists of the positive and negative main relays, pre-charge relay, pre-charge resistor and battery current sensor. It is located inside the battery pack assembly and controls the high voltage power circuit between the high voltage battery and inverter by the control signal of BMS ECU...
Categories
The front seat can be adjusted by using the levers located on the outside of the seat cushion. Before driving, adjust the seat to the proper position so that you can easily control the steering wheel, foot pedals and controls on the instrument panel.
Forward and rearward adjustment