Hyundai Ioniq: Exterior Features / Hood
Opening the hood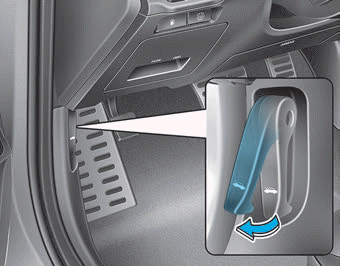 1. Park the vehicle and set the parking brake.
2. Pull the release lever to unlatch the hood. The hood should pop open slightly.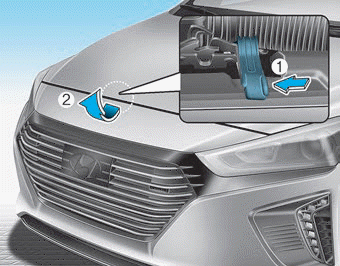 3. Go to the front of the vehicle, raise the hood slightly, push up the secondary latch (1) inside of the hood center and lift the hood (2).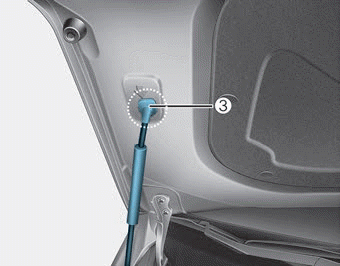 4. Pull out the support rod and hold the hood open with the support rod (3).
WARNING
Grasp the support rod in the area wrapped in rubber. The rubber will help prevent you from being burned by hot metal when the engine is hot.
The support rod must be inserted completely into the hole provided whenever you inspect the engine compartment. This will prevent the hood from falling and possibly injuring you.
Closing the hood
1. Before closing the hood, check the following:
All filler caps in engine compartment must be correctly installed.
Gloves, rags or any other combustible material must be removed from the engine compartment.
2. Lower the hood halfway (lifted approximately 12 inches (30 cm) from the closed position) and push down to securely lock in place. Then double check to be sure the hood is secure. If the hood can be raised slightly, it is not securely locked. Open it again and close it with more force.
WARNING
Before closing the hood, ensure all obstructions are removed from around the hood opening.
Always double check to be sure that the hood is firmly latched before driving away. Check there is no hood open warning light or message displayed on the instrument cluster. Driving with the hood opened may cause a total loss of visibility, which might result in an accident.
Do not move the vehicle with the hood in the raised position, as vision is obstructed, which might result in an accident, and the hood could fall or be damaged.
Opening the liftgate Make sure the shift lever is in P (Park). Then do one of the following: 1. Unlock all doors with the Door Unlock button on your smart key...
Other information:
When you move the shift lever to the R (Reverse) position, the side view mirror(s) will rotate downwards to aid with driving in reverse. The position of the side view mirror switch (1) determines whether or not the mirrors will move: Left/Right : When either the L (Left) or R (Right) switch is selected, both side view mirrors will move...
Adjust the steering wheel so it points toward your chest, not toward your face. Make sure you can see the instrument cluster warning lights and gauges. After adjusting, push the steering wheel both up and down to be certain it is locked in position...
Categories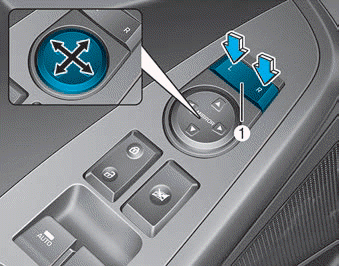 Adjusting the side mirrors:
1. Press either the L (driver's side) or R (passenger's side) button (1) to select the side view mirror you would like to adjust.