Hyundai Ioniq: With Tire Mobility Kit (TMK) - Type B / Introduction
With the Tire Mobility Kit you stay mobile even after experiencing a tire puncture.
The compressor and sealing compound system effectively and comfortably seals most punctures in a passenger car tire caused by nails or similar objects and reinflates the tire.
After you ensure that the tire is properly sealed you can drive cautiously on the tire (distance up to 120 miles (200 km)) at a max. speed of (50 mph (80 km/h)) in order to reach a service station or tire dealer for the tire replacement.
It is possible that some tires, especially with larger punctures or damage to the sidewall, cannot be sealed completely.
Air pressure loss in the tire may adversely affect tire performance. For this reason, you should avoid abrupt steering or other driving maneuvers, especially if the vehicle is heavily loaded or if a trailer is in use.
The Tire Mobility Kit is not designed or intended as a permanent tire repair method and is to be used for one tire only.
This instruction shows you step by step how to temporarily seal the puncture simply and reliably. Read the section "Notes on the safe use of the Tire Mobility Kit".
Categories
Seat belt warning light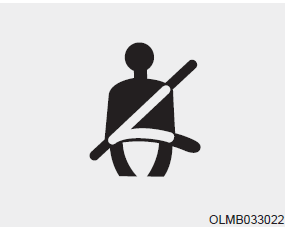 As a reminder to the driver, the seat belt warning light will illuminate and warning chime will sound for approximately 6 seconds each time you place the Engine Start/Stop button to the ON position if the seat belt is unfastened.