Hyundai Ioniq: Blind-spot Collision Warning (BCW) system / Limitations of the system
The driver must be cautious in the below situations, because the system may not detect other vehicles or objects in certain circumstances.
When a trailer or carrier is installed.
The vehicle drives in inclement weather such as heavy rain or snow.
The sensor is polluted with rain, snow, mud, etc.
The rear bumper where the sensor is located is covered with a foreign object such as a bumper sticker, a bumper guard, a bike rack, etc.
The rear bumper is damaged, or the sensor is out of the original default position.
The vehicle height gets lower or higher due to heavy loading in the luggage compartment, abnormal tire pressure, etc.
When the temperature near the rear bumper area is high or low.
When the sensors are blocked by other vehicles, walls or parking-lot pillars.
The vehicle drives on a curved road or through a tollgate.
The vehicle is driven near areas containing metal substances such as a construction zone, railroad, etc.
There is a fixed object near the vehicle, such as a guardrail, person, animal, etc.
While going down or up a steep road where the height of the lane is different.
When driving through a narrow road with many trees or bushes.
When driving on wet surfaces.
When driving through a large area with few vehicles or structures around, such as a desert, rural area, etc.
A big vehicle is near such as a bus or truck.
When other vehicles are close to your vehicle.
When the other vehicle approaches very close.
When the detected vehicle also moves back, as your vehicle drives back.
While changing lanes.
The vehicle is turning left or right at a crossroad.
If the vehicle has started at the same time as the vehicle next to you and has accelerated.
When the other vehicle passes at a very fast speed.
When the vehicle in the next lane moves two lanes away from you OR when the vehicle two lanes away moves to the next lane to you.
A motorcycle or bicycle is near.
A flat trailer is near.
If there are small objects in the detecting area such as a shopping cart or a baby stroller.
If there is a low height vehicle such as a sports car.
Non-operating condition
The BCW indicator on the outer side view mirror may not illuminate properly when:
The outer side view mirror housing is damaged.
The mirror is covered with dirt, snow, or debris.
The window is covered with dirt, snow, or debris.
The window is tinted.
Information
This device complies with Part 15 of the FCC rules.
Operation is subject to the following two conditions:
1. This device may not cause harmful interference, and
2. This device must accept any interference received, including interference that may cause undesired operation.
Categories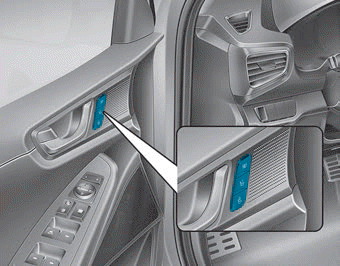 The Driver Position Memory System is provided to store and recall the following memory settings with a simple button operation.
- Driver's seat position
- Side view mirror position
- Instrument panel illumination intensity