Hyundai Ioniq: Driver AttentionThe driver must be cautious in the below situations may not work properly when recognition of the lane marker is poor or limited : / LKA System Function Change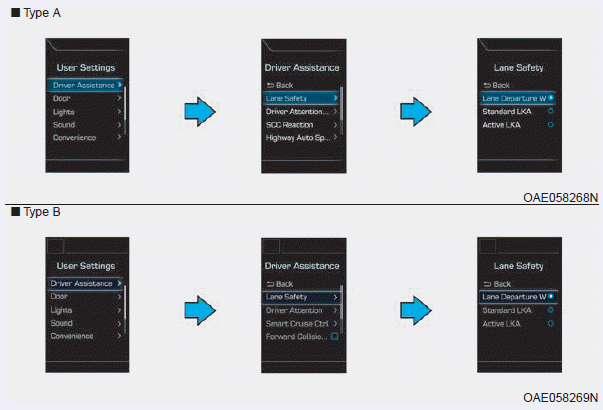 The driver can change LKA to Lane Departure Warning (LDW) System or change the LKA system mode between Active LKA and Standard LKA from the User Settings Mode on the LCD display.
Lane Departure Warning
LDW alerts the driver with a visual and acoustic warning when the system detects the vehicle leaving the lane. In this mode, the steering wheel will not be controlled. When the vehicle's front wheel contacts the inside edge of lane line, LKA issues the lane departure warning.
Standard LKA
The Standard LKA mode guides the driver to help keep the vehicle within the lanes. It rarely controls the steering wheel, when the vehicle drives well inside the lanes. However, it starts to control the steering wheel, when the vehicle is about to deviate out of the lanes.
Active LKA
The Active LKA mode provides more frequent steering wheel control in comparison with the Standard LKA mode. Active LKA can reduce the driver's fatigue to assist the steering for maintaining the vehicle in the middle of the lane.
Information
This device complies with Part 15 of the FCC rules.
Operation is subject to the following two conditions:
1. This device may not cause harmful interference, and
2. This device must accept any interference received, including interference that may cause undesired operation.
Categories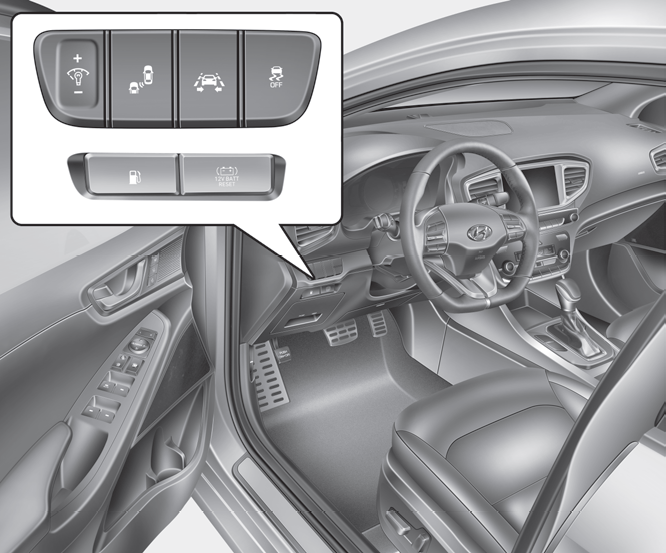 1. Door lock/unlock button
2. Driver position memory system
3. Side view mirror control switch
4. Central door lock switch