Hyundai Ioniq: Intake and Exhaust System / Muffler. Repair procedures
Front Muffler
| | |
| --- | --- |
| 1. | Disconnect the battery negative terminal. |
| | |
| --- | --- |
| 2. | Disconnect the oxygen sensor connector (A). |
3.

Remove the heat protector (A).

Tightening torque :

9.8 - 11.8 N.m (1.0 - 1.2 kgf.m, 7.2 - 8.7 lb-ft)
4.

Remove the front muffler (A).

Tightening torque :

39.2 - 58.8 N.m (4.0 - 6.0 kgf.m, 28.9 - 43.4 lb-ft)
5.

Install in the reverse order of removal.

| | |
| --- | --- |
| • | When installing, replace with new gaskets. |
GPF
| | |
| --- | --- |
| 1. | Disconnect the battery negative terminal. |
2.

Remove the exhaust gas temperature sensor (EGTS) #1,#2.

(Refer to Engine Control / Fuel System - "Exhaust Gas Temperature Sensor (EGTS)")
3.

Remove the GPF (A).

Tightening torque :

39.2 - 58.8 N.m (4.0 - 6.0 kgf.m, 28.9 - 43.4 lb-ft)
4.

Install in the reverse order of removal.

| | |
| --- | --- |
| • | When installing, replace with new gaskets. |
Center Muffler
1.

Remove the center muffler (A).

Tightening torque :

39.2 - 58.8 N.m (4.0 - 6.0 kgf.m, 28.9 - 43.4 lb-ft)
2.

Install in the reverse order of removal.

| | |
| --- | --- |
| • | When installing, replace with new gaskets. |
Rear Muffler
1.

Remove the rear muffler (A).

Tightening torque :

39.2 - 58.8 N.m (4.0 - 6.0 kgf.m, 28.9 - 43.4 lb-ft)
2.

Install in the reverse order of removal.

| | |
| --- | --- |
| • | When installing, replace with new gaskets. |
Other information:
Turn the knob to the right to increase the temperature. Turn the knob to the left to decrease temperature. The temperature will increase or decrease by 1°F/0.5°C. Temperature conversion If the battery has been discharged or disconnected, the temperature mode display will reset to Fahrenheit...
Auto defogging system reduces the possibility of fogging up the inside of the windshield by automatically sensing the moisture on inside the windshield. The auto defogging system operates when the heater or air conditioning is on. When the Auto Defogging System operates, the indicator will illuminate...
Categories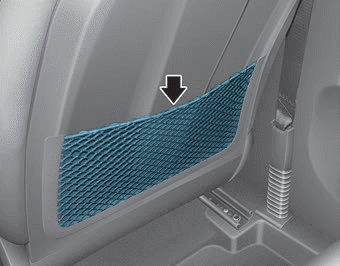 The seatback pocket is provided on the back of the front passenger's seatback.
WARNING
To prevent the Occupant Classification System from malfunctioning: