Hyundai Ioniq: Trip Computer / Range/Average fuel economy/ Instant fuel economy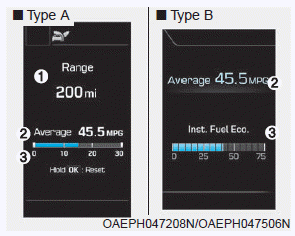 Range (1)
The range is the estimated distance the vehicle can be driven with the remaining fuel.
If the estimated distance is below 1 mi. (1 km), the trip computer will display "----" as range.
Information
If the vehicle is not on level ground or the battery power has been interrupted, the range function may not operate correctly.
The range may differ from the actual driving distance as it is an estimate of the available driving distance.
The trip computer may not register additional fuel if less than 1.6 gallons (6 liters) of fuel are added to the vehicle.
The fuel economy and range may vary significantly based on driving conditions, driving habits, and condition of the vehicle.
Average Fuel Economy (2)
The average fuel economy is calculated by the total driving distance and fuel consumption since the last average fuel economy reset.
The average fuel economy can be reset both manually and automatically.
Manual reset
To clear the average fuel economy manually, press the OK button on the steering wheel for more than 1 second when the average fuel economy is displayed.
Automatic reset
To automatically reset the average fuel economy, select between "After Ignition" or "After Refueling" in the User Settings mode on the LCD display.
- After Ignition: When the vehicle has been OFF for 4 hours or longer the average fuel economy will reset automatically.
- After Refueling: The average fuel economy will reset automatically after adding 1.6 gallons (6 liters) of fuel or more and after driving speed exceeds 1 mph (1 km/h).
Information
The vehicle must be driven for a minimum of 0.19 miles (300 meters) since the last ignition key cycle before the average fuel economy will be recalculated.
Instant Fuel Economy (3)
• This mode displays the instantaneous fuel economy while driving.
Tripmeter (1) The tripmeter is the total driving distance since the last tripmeter reset. To reset the tripmeter, press the OK button on the steering wheel for more than 1 second when the tripmeter is displayed...
Other information:
Charging System Warning Light When this warning light illuminates while running the engine, the battery is not being charged. Immediately turn OFF all electrical accessories. Try not to use electrically operated controls, such as the power windows...
In this mode, you can change the settings of the instrument cluster, doors, lamps, etc. 1. Driver Assistance 2. Door 3. Lights 4. Convenience 5. Service Interval 6. Other (Features) 7. Reset 1. Driver Assistance • Lane Safety - Lane Departure Warning/ Standard LKA/Active LKA To adjust the sensitivity of the Lane Keeping Assist (LKA) System...
Categories
The front seat can be adjusted by using the levers located on the outside of the seat cushion. Before driving, adjust the seat to the proper position so that you can easily control the steering wheel, foot pedals and controls on the instrument panel.
Forward and rearward adjustment