Hyundai Ioniq: Hybrid Control System / HPCU (Hybrid Power Control Unit). Components and components location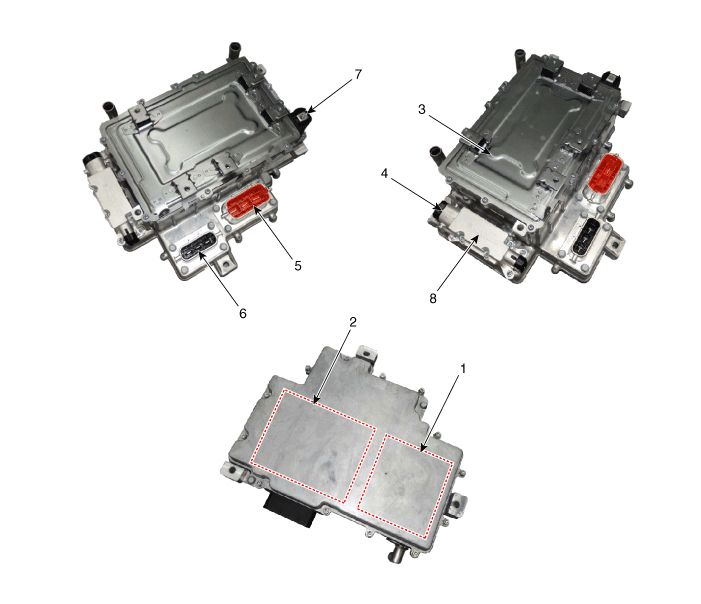 1. Hybrid Control Unit (HCU)
2. Inverter
3. Low DC/DC Converter (LDC)
4. Connector (↔ High Voltage Battery)

5. Connector (↔ Motor)
6. Connector (↔ HSG)
7. Low Voltage Power Outlet Terminal
8. DC Fuse

Removal • Be sure to read and follow the "General Safety Information and Caution" before doing any work related with the high voltage system...
Other information:
DescriptionThe HCU (Hybrid Control Unit) controls whole hybrid systems and is connected with each control modules (ECM, TCM, MCU, BMS ECU etc.) by CAN interface. In addition this system uses the brake switch and Clutch Pressure Sensor (CPS) signals for controlling the hybrid system...
Components1. Camshaft bearing cap2. Front camshaft bearing cap3. Exhaust camshaft4. Intake camshaft5. Exhaust CVVT assembly6. Intake CVVT assembly7. Cylinder head assembly8. Cylinder head gasket9. Retainer lock10. Retainer11. Valve spring12. Valve stem seal13...
Categories

1. Engine oil filler cap
2. Engine oil dipstick
3. Engine coolant cap
4. Engine coolant reservoir
5. Inverter coolant reservoir