Hyundai Ioniq: Interior Features / Power Outlet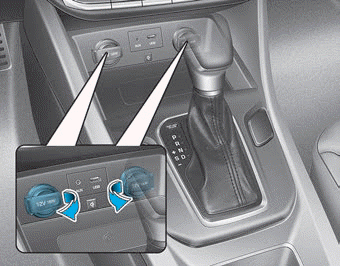 The power outlet is designed to provide power for mobile telephones or other devices designed to operate with vehicle electrical systems. The devices should draw less than 180 W (Watts) with the vehicle in the ready (
) mode.
WARNING
Avoid electrical shocks. Do not place your fingers or foreign objects (pin, etc.) into a power outlet or touch the power outlet with a wet hand.
NOTICE
To prevent damage to the Power Outlets :
Use the power outlet only when the vehicle is in the ready ( ) mode and remove the accessory plug after use. Using the accessory plug for prolonged periods of time with the vehicle off could cause the battery to discharge.
Only use 12V electric accessories which are less than 180 W (Watts) in electric capacity.
Adjust the air-conditioner or heater to the lowest operating level when using the power outlet.
Close the cover when not in use.
Some electronic devices can cause electronic interference when plugged into a vehicle's power outlet.These devices may cause excessive audio static and malfunctions in other electronic systems or devices used in your vehicle.
Push the plug in as far as it will go. If good contact is not made, the plug may overheat and the fuse may open.
Plug in battery equipped electrical/ electronic devices with reverse current protection. The current from the battery may flow into the vehicle's electrical/ electronic system and cause system malfunction.
Categories
Folding the rear seat
The rear seatbacks can be folded to facilitate carrying long items or to increase the luggage capacity of the vehicle.
WARNING
Never allow passengers to sit on top of the folded down seatback while the vehicle is moving. This is not a proper seating position and no seat belts are available for use. This could result in serious injury or death in case of an accident or sudden stop. Objects carried on the folded down seatback should not extend higher than the top of the front seatbacks. This could allow cargo to slide forward and cause injury or damage during sudden stops.