Hyundai Ioniq: Trickle Charge / Unlock Charging Connector in Emergency, Precautions for Portable Charger
Unlock Charging Connector in Emergency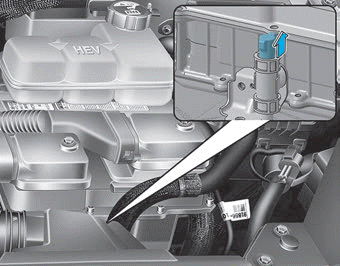 If the charging connector does not disconnect due to battery discharge and failure of the electric wires, open the hood and slightly pull the emergency cable. The charging connector will then disconnect .
Precautions for Portable Charger (ICCB: In-Cable Control Box)
Use the portable charger that is certified by HYUNDAI Motors.
Do not try to repair, disassemble, or adjust the portable charger.
Do not use an extension cord or adapter.
Stop using immediately when failure occurs.
Do not touch the plug and charging connector with wet hands.
Do not touch the terminal part of the normal charging connector and the normal charging inlet on the vehicle.
Do not connect the charging connector to voltage that does not comply with regulations.
Do not use the portable charger if it is worn out, exposed, or there exists any type of damage on the portable charger.
If the ICCB case and normal charging connector is damaged, cracked, or the wires are exposed in any way, do not use the portable charger.
Do not let children operate or touch the portable charger.
Keep the control box free of water.
Keep the normal charging connector or plug terminal free of foreign substances.
Do not step on the cable or cord. Do not pull the cable or cord and do not twist or bend it.
Do not charge when there is lightning.
Do not drop the control box or place a heavy object on the control box.
Do not place an object that can generate high temperatures near the charger when charging.
Charging with the worn out or damaged household electric outlet can result in a risk of electric shock. If you are in doubt to the household electric outlet condition, have it checked by a licensed electrician.
Stop using the portable charger immediately if the household electric outlet or any components is overheated or you notice burnt odors.
1. Hold the charging connector handle and pull it while pressing the release button (1). Information To prevent charging cable theft, the charging connector cannot be disconnected from the inlet when the doors are locked...
Other information:
Air bags are not designed to inflate in every collision. There are certain types of accidents in which the air bag would not be expected to provide additional protection. These include rear impacts, second or third collisions in multiple impact accidents, as well as low speed impacts...
1. Connect the plug to a household electric outlet. 2. Check if the power lamp (green) illuminates on the control box. 3. Depress the brake pedal and apply the parking brake. 4. Turn OFF all switches, shift to P (Park), and turn OFF the vehicle. 5...
Categories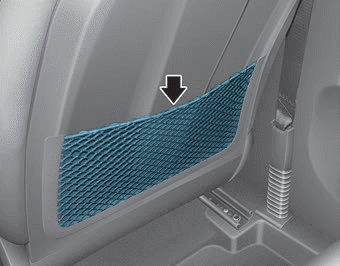 The seatback pocket is provided on the back of the front passenger's seatback.
WARNING
To prevent the Occupant Classification System from malfunctioning: