Hyundai Ioniq: High Voltage Battery Control System / Battery Current Sensor. Repair procedures
| | |
| --- | --- |
| • | Be sure to read and follow the "General Safety Information and Caution" before doing any work related with the high voltage system. Failure to follow the safety instructions may result in serious electrical injuries. |
| | |
| --- | --- |
| • | Battery Current Sensor are integrated into the PRA which can't be disassembled. So refer to "Power Relay Assembly (PRA)" for removal or installation procedure. |
| | |
| --- | --- |
| • | Be sure to read and follow the "General Safety Information and Caution" before doing any work related with the high voltage system. Failure to follow the safety instructions may result in serious electrical injuries. |
| | |
| --- | --- |
| • | Battery Current Sensor are integrated into the PRA which can't be disassembled. So refer to "Power Relay Assembly (PRA)" for removal or installation procedure. |
| | |
| --- | --- |
| • | Be sure to read and follow the "General Safety Information and Caution" before doing any work related with the high voltage system. Failure to follow the safety instructions may result in serious electrical injuries. |
| | |
| --- | --- |
| 1. | Connect the GDS to the Data Link Connector (DLC). |
| | |
| --- | --- |
| 2. | Turn the ignition switch ON. |
| | |
| --- | --- |
| 3. | Check the battery current in GDS service data. |
Other information:
The emission control system of your vehicle is covered by a written limited warranty. Please see the warranty information contained in the Owner's Handbook & Warranty Information booklet in your vehicle. Your vehicle is equipped with an emission control system to meet all applicable emission regulations...
To activate/deactivate the LKA system: With the Engine Start/Stop button in the ON position, press the LKA system button located on the instrument panel on the left hand side of the steering wheel. The indicator in the cluster display will initially illuminate white...
Categories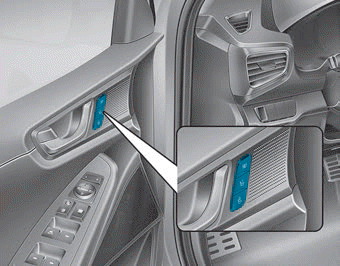 The Driver Position Memory System is provided to store and recall the following memory settings with a simple button operation.
- Driver's seat position
- Side view mirror position
- Instrument panel illumination intensity