Hyundai Ioniq: Safety Precautions for Hybrid System / High Voltage Battery Cooling Duct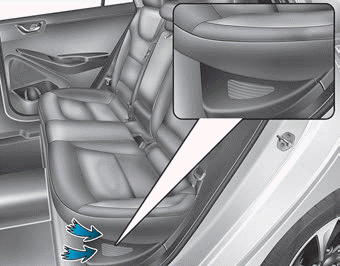 ■ Hybrid vehicle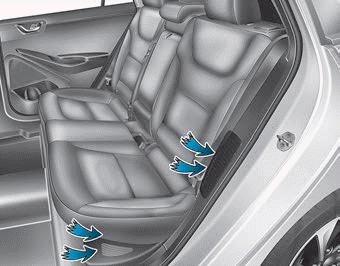 ■ Plug-in hybrid vehicle
The high-voltage battery cooling duct is located on the left side of the rear seats.
The cooling duct cools down the high-voltage battery. When the highvoltage battery cooling duct is blocked, the high-voltage battery may be overheated and the vehicle performance may become limited and set a hybrid warning lamp. Do not obstruct the cooling duct with any other objects.
WARNING
Never clean the cooling duct of the hybrid battery with a wet cloth. If any water enters in the cooling duct of the hybrid battery, the hybrid battery may cause an electric shock, serious damage, injury or death.
The hybrid battery is composed of lithium-ion polymer. If the hybrid battery is improperly handled, it is dangerous to the environment. Also it may cause electrical shock and severe burns, resulting in serious injury or death.
Do not spill liquid over the cooling duct of the hybrid battery. Doing so is very dangerous. It may cause electric shock or serious injury.
Do not cover the cooling duct with objects.
Do not put any objects into the cooling duct of the hybrid battery. Doing so may cause loss of cooling duct volume to the hybrid battery. When the cooling duct is blocked with any objects, immediately contact your HYUNDAI dealer.
Never place a container of liquid on or near the cooling duct. If the liquid spills, the hybrid battery located in the luggage compartment may be damaged.
Secure all loads in the luggage compartment to prevent them from being tossed about before driving. If a sharp or heavy load impacts or pierces the interior luggage compartment wall, the hybrid battery system may be damaged, deteriorating its performance.
Information
Clean the cooling duct for the hybrid battery with a dry cloth on a regular basis.
Categories
The front seat can be adjusted by using the levers located on the outside of the seat cushion. Before driving, adjust the seat to the proper position so that you can easily control the steering wheel, foot pedals and controls on the instrument panel.
Forward and rearward adjustment