Hyundai Ioniq: What to do in an emergency / If an Accident Occurs
WARNING
For your safety, do not touch high voltage cables, connectors and package modules. High voltage components are orange in color.
Exposed cables or wires may be visible inside or outside of the vehicle. Never touch the wires or cables, because an electrical shock, an injury, or a death may occur.
Any gas or electrolyte leakage from your vehicle is not only poisonous but also flammable. Upon witnessing one of those, open the windows, and remain a safe distance from the vehicle out of the road. Immediately contact an authorized Hyundai dealer and advise them that a hybrid vehicle is involved.
If you need towing, refer to "Towing" in the previous pages.
When the vehicle is severely damaged, remain a safe distance of 50 feet (15 meter) or more between your vehicle and other vehicles/flammables.
WARNING
If a fire occurs :
Upon witnessing any sparks, gases, flames, or fuel leakage of your vehicle, immediately call 911 or contact an authorized HYNDAI dealer. Also, advise them that a hybrid vehicle is involved.
WARNING
When a submersion in water occurs:
When your vehicle is flooded in water, a high-voltage battery may cause shock or may catch on fire. Thus, turn the hybrid system OFF, take the key in your possession and move to a safe place. Never attempt physical contact with your flooded vehicle. Immediately contact an authorized HYUNDAI dealer and advise them that a hybrid vehicle is involved.
■ Front ■ Rear If towing is necessary, we recommend you to have it done by an authorized HYUNDAI dealer or a commercial tow truck service. If a towing service is not available in an emergency, your vehicle may be temporarily towed using a cable or chain secured to the emergency towing hook at the rear of the vehicle...
Other information:
Unplug vehicle to start (Plug-in hybrid vehicle) This message is displayed when you start the engine without unplugging the charging cable. Unplug the charging cable, and then start the vehicle. Remaining time (Plug-in hybrid vehicle) This message is displayed to notify the remaining time to fully charge the battery...
Adaptive front lighting system uses the steering angle and vehicle speed, to keep your field of vision wide by swiveling and leveling the headlamp. Change the switch to the AUTO position when the vehicle is in the ready () mode. The adaptive front lighting system will operate when the headlamp is ON...
Categories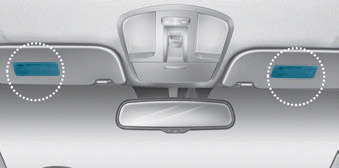 Air bag warning labels, required by the U.S. National Highway Traffic Safety Administration (NHTSA), are attached to alert the driver and passengers of potential risks of the air bag system. Be sure to read all of the information about the air bags that are installed on your vehicle in this Owners Manual.